Northeast Ocean Data announces updates and additions to its bathymetry data pages, which provide a centralized source of maps, data, and information on water depth and seafloor terrain in the northeastern United States. Bathymetry data are used for maritime safety, ocean planning, renewable energy development, scientific research, and fisheries management.
BATHYMETRY CONTOURS FOR WATERS SOUTH OF CAPE COD AND RHODE ISLAND
The Northeast Ocean Data Working Group has developed a new data product with bathymetry contours for a large area extending southward from coastal Rhode Island and Cape Cod. The area encompasses Montauk, Buzzards Bay, Martha's Vineyard, and Nantucket Shoals. Bathymetry contours can enhance visualization of high-resolution bathymetry datasets. This data product is derived by combining high-resolution and low-resolution datasets from NOAA Electronic Navigation Charts (ENCs®). This makes it possible to see contours for the entire area and also to zoom in and see detailed contours in particular places of interest. This new product is available on the Featured Products page, including an interactive map, downloadable jpeg image of the map, downloadable database, and metadata documentation. This data product is not to be used for navigation.
Preview of Interactive Map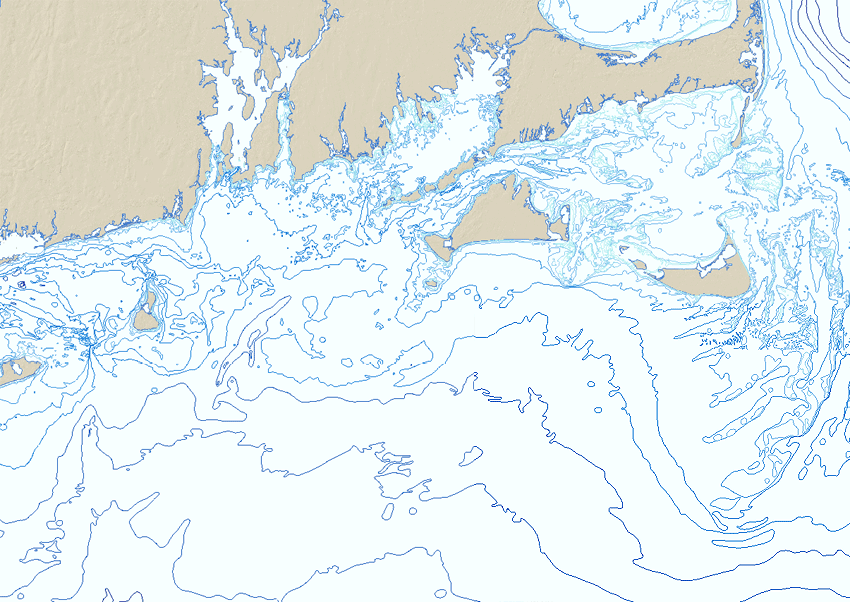 Click on image to open interactive map in a new window