The US Geological Survey (USGS) developed the Sea Floor Stress and Sediment Mobility Database to estimate bottom shear stress, a force at the seabed created by ocean waves and currents. Bottom stress influences physical, geological, and biological processes and is important in evaluating sites for offshore structures, understanding the distribution of toxic materials, and predicting the distribution of seabed plants and animals.
Because direct measurements of bottom stress are expensive, the USGS used numerical models to estimate bottom stress annually and seasonally in the Gulf of Maine and Mid-Atlantic Bight. Maps of median bottom stress are shown in the Data Explorer under Habitat > Physical. Median bottom stress maps represent stress values exceeded 50% of the time in that location.
The time slider tool in the Data Explorer can be used to view the seasonal data. The data are primarily intended to show the overall distribution of the average stress values on large spatial scales and should be used qualitatively. The highest values in the Northeast tend to occur in fall, likely due to the occurrence of tropical storms at that time of year.
To learn more, visit the USGS Sea Floor Stress and Sediment Mobility Database.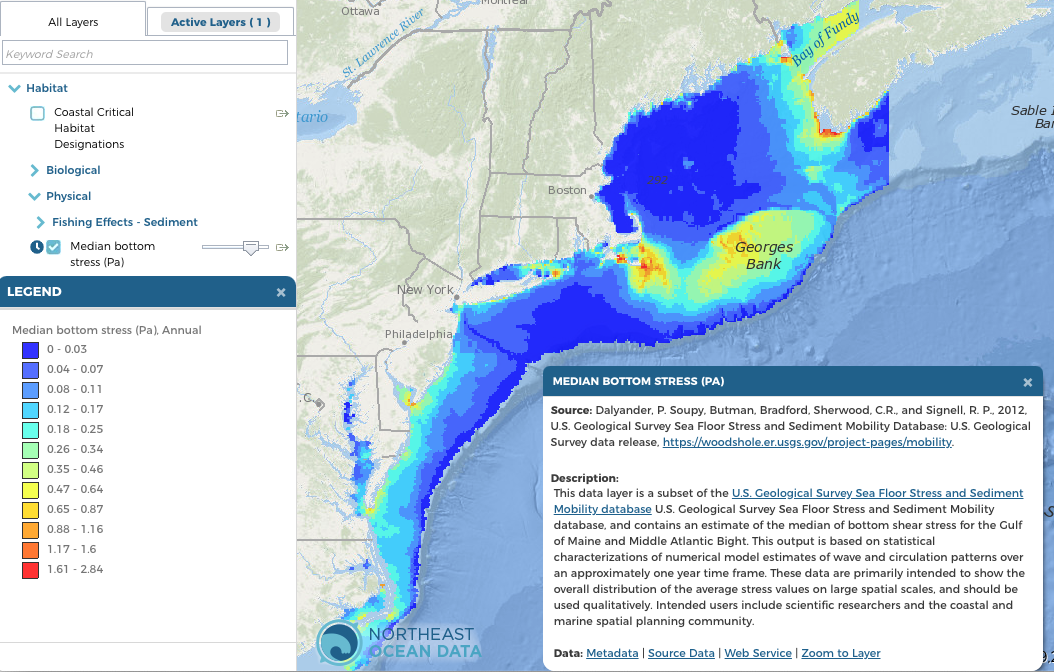 Screenshot of median bottom stress map