Vessel traffic data for 2017 are now available on the Marine Transportation Theme Map and on the Data Explorer map, where they can be overlaid with other types of data on ocean uses and marine life. Users can view data for all vessels together or select from seven categories of vessels: cargo, passenger, tug-tow, fishing, tanker, pleasure craft-sailing vessel, or other. On the Data Download page, the vessel traffic data can be downloaded for use in other applications.
With this release and the recent release of 2015 and 2016 data, Northeast Ocean Data now provides six years of vessel traffic data, including 2011–2013 and 2015–2017.
As with vessel traffic data for prior years, the 2017 data represent counts of total vessel transits in each category and can be viewed at both annual and monthly time-steps. A new time slider in the Data Explorer enables users to advance vessel traffic maps month by month to see how traffic patterns for each vessel category change throughout the year.
Use the New Time Slider to View Monthly Data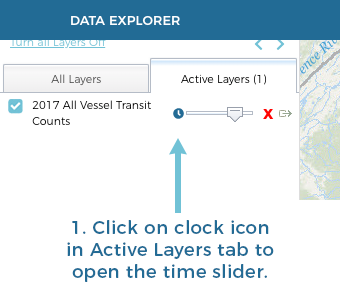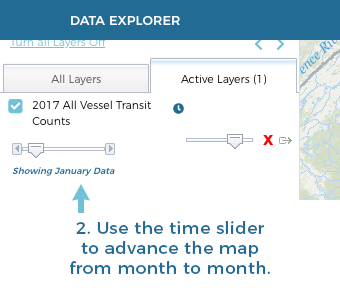 The vessel traffic datasets are based on Automatic Identification System (AIS) data collected by the U.S. Coast Guard through onboard navigation safety devices that transmit and monitor the locations and characteristics of large vessels in U.S. and international waters. While AIS data often contain some errors such as vessels registered in an incorrect category, the Northeast Ocean Data maps show general patterns of vessel activity; for more information, see the metadata.
The vessel traffic datasets and interactive maps on Northeast Ocean Data were developed in collaboration with partners from maritime industry, the U.S. Coast Guard, the Marine Cadastre, and the Mid-Atlantic Regional Council on the Ocean. The maritime industry contributed valuable input at numerous presentations and briefings throughout the Northeast region, helping to guide how the data should be processed and presented to maximize their accuracy and usefulness.
To download monthly or annual AIS data, visit the Data Download page and click on the Marine Transportation heading.
Data Explorer Maps of Vessel Traffic (2017)
Tutorial Video: Monthly Vessel Traffic in the Data Explorer (Duration: 59 seconds)
Learn how to access and use the vessel traffic time slider in the Data Explorer.