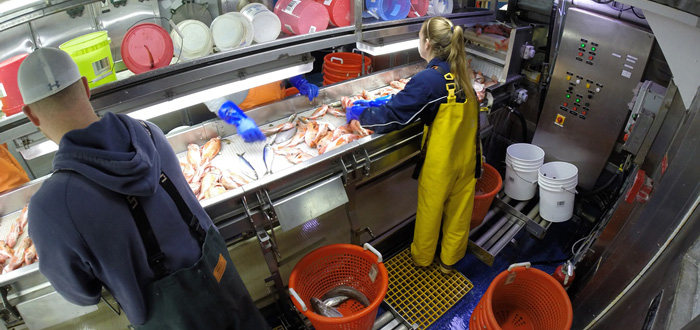 Scientists sorting catch from a fish survey aboard the NOAA ship Henry B. Bigelow. Photo: NOAA Fisheries/Ecosystems Surveys Branch, NEFSC
The Northeast Data Portal, in coordination with the Marine-life Data and Analysis Team (MDAT), the NOAA Northeast Fisheries Science Center (NEFSC), OceanAdapt, and the Mid-Atlantic Ocean Data Portal, announce the release of updated maps depicting the distribution and biomass of fish species in the northeastern U.S. continental shelf ecosystem.
Together, these entities will host a public webinar on July 31, 2019, from 12:00 – 1:30pm to introduce the new data, demonstrate Portal features, and answer questions. Join the webinar using this link: https://monmouth.adobeconnect.com/marinelife/. For planning purposes, please register by emailing Karl Vilacoba (kvilacob@monmouth.edu) if you plan to attend.
Go directly to marine life tutorials:
Introduction to Marine Life and Habitat Theme Maps (2:09)
How to Add an Individual Species to the Data Explorer Map (2:22)
Overview of What's New
The original Version 1 marine life data products were released in 2016 in conjunction with the Northeast Ocean Plan. Version 2 was released in summer 2018 and provided updates to cetacean and bird individual species-level data products, as well as new species groups for fish. Today's update provides entirely new data products for fish species caught in the NEFSC bottom trawl survey and minor updates to cetacean species data products.
Fish (Version 3)
In addition to incorporating the most recent data from the NOAA NEFSC Ecosystems Surveys Branch, the new fish data products address feedback from expert and stakeholders by
using NEFSC methods and code,
including new spring trawl results (in addition to fall) and standardized legends so that seasons for each species/group can be compared, and
providing higher spatial resolution (2 km grid size versus previous 10km grid size).
The resulting data products represent average annual biomass for each of 81 species in fall 2010-2016 and spring 2010-2017. All of the Species Group products (such as Total Biomass and Species Richness for All Species, Ecological Groups, Managed Species, and Stressor Groups) have also been updated. Data products for the individual state trawls and the NorthEast Area Monitoring and Assessment Program (NEAMAP) were not updated as part of this release.
For a detailed description of fish data product updates, see MDAT Fish Product Updates Summary of Changes (June 2019).
Cetaceans (Version 2.1)
This release includes updates to individual species products for several cetacean species that did not receive updates in Version 2. With this update, all cetacean individual species data products now reflect the Second Generation Marine Mammal Density results (see MDAT website for details). All of the cetacean Species Group products have also been updated to reflect these changes.
For a detailed description of cetacean data product updates, see MDAT Cetacean Product Updates Summary of Changes (June 2019).
Expert review and documentation
As with all previous versions, marine life products have been extensively reviewed by experts in each topic and are accompanied by updated technical documentation and complete metadata that provide citations to relevant peer-reviewed reports and papers. MDAT also updated the technical report that combines information about the methods used to develop the datasets and maps into a single document. Links to the technical report and metadata are available when viewing the data on Northeast Ocean Data.
Examples of new interactive maps
All Fish Species, Total Biomass, Spring, 2010-2017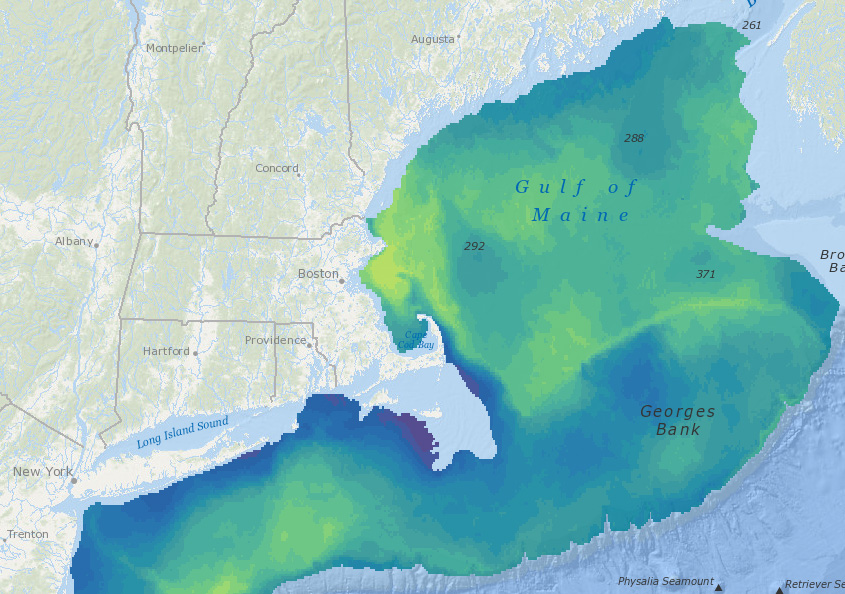 Forage Fish, Species Richness, Spring, 2010-2017
Atlantic Cod, Interpolated Biomass, Spring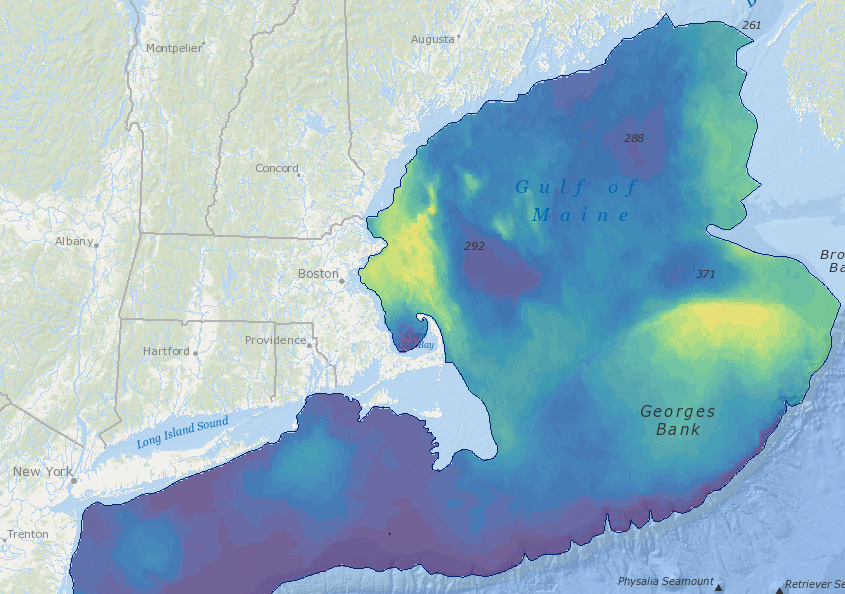 Longfin Squid, Total Biomass, Fall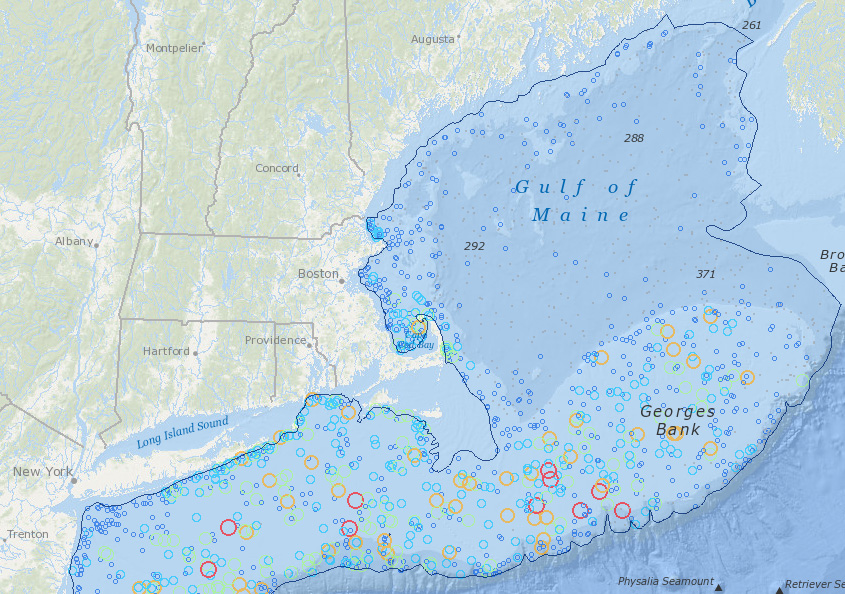 Summary
Article Name
Marine Life update provides new maps of fish distribution and biomass, and updated maps xfor marine mammals
Description
Northeast Ocean Data Portal is releasing updated data and maps of fish and whales in the northeastern US
Publisher Name
Northeast Ocean Data Portal
Publisher Logo